Mompha admonished everyone not to believe stories flying around possibly over Hushpuppi's arrest.
Via his Insta-story, Mompha had written;
"Don't believe all these stories flying on social media because when I was arrested by efcc different stories was flying all over. At the end, my charge was selling foreign currency without no license which till now they can't prove it and also can't believe why so much hate in Nigeria".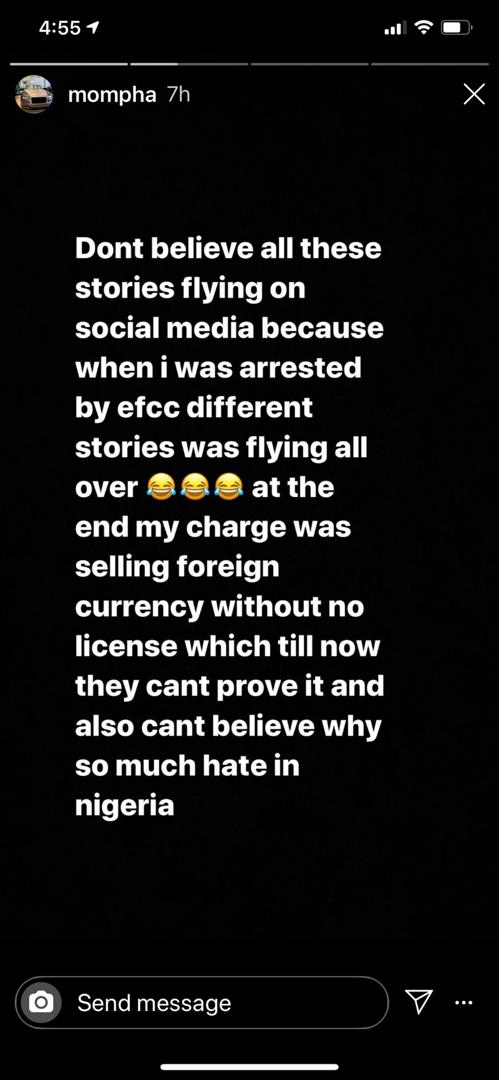 When news surfaced that Ray Hushpuppi was allegedly whisked away in Dubai by the combined forces of the FBI and the INTERPOL, rumours were that the Nigerian socialite was involved in a COVID-19 scam
After that news broke, Mompha, who had been embroiled in a bitter feud with Hushpuppi in the past, took to his Instagram to throw shades. "Never mock anyone who is facing a trial case co you don'[t know tomorrow," he posted and deleted, referring to Hushpuppi's mockery of him after he was arrested by the EFCC months ago.
Aggrieved folks now wants him to get arrested too by the FBI and INTERPOL, and it is why he has now called them all out and tagged them "hypocrites."
He had said:
 "For those idiots tagging fbi and interpol on my page and saying you are next na thunder go fire those hand you use in typing by the special Grace you idiot think fbi or interpol dont know mompha  you must be really sick  fucking hypocrites they never mind their business Bastards!!!"